Sometimes I Make Headlines?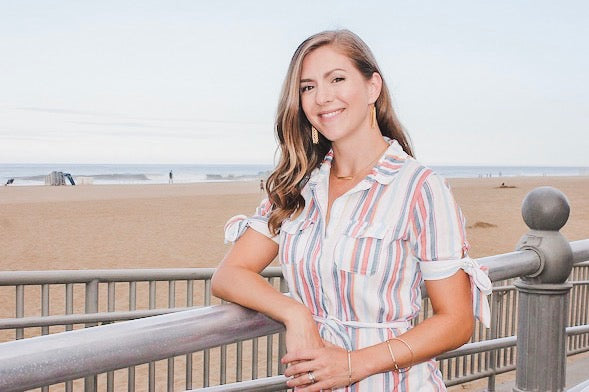 I had an amazing time being interviewed by Lee Belote for the Virginian-Pilot! Check it all out here or see the text from the article below. 
Photo credit: Lee Belote, Virginian-Pilot
Close-up: Stephie Jones Living Her Dream as an Artist
As early as first grade, Stephie Jones remembers being known as an artist.
"I'd draw camouflage sharks in my composition book in class to impress the boys," she said. "Before long, I'd have other kids asking me to draw one thing or another to help them illustrate a science project or make posters for a class president campaign."
She said it felt good to help her classmates out, and it became obvious she had a natural talent. In third grade, Jones created a studio in her closet and took weekly art lessons from a local artist. When she turned 13, her parents bought her an official drafting table she still uses today.
At James Madison University, Jones pursued a business degree and minored in art. After graduation, she worked as a graphic designer until a near-death experience during childbirth caused her to make a few life changes.
"Before the terrifying experience, I was always an artist, but I wasn't sharing my gift and life's purpose with anyone," Jones said. "I looked at my life and was pleased with all my decisions except one. I never gave it my all in an art career."
Since 2016, Jones has been a full-time artist creating paintings inspired by nature and coastal living. When she was asked to create this year's Neptune Festival poster, she was caught completely off guard.
"It wasn't even on my radar," she said. "It was surreal because this is an event I've enjoyed for many years. It's a nice validation that my work is being seen and enjoyed in the local market."
Her poster, "One Size Fits All," is a vibrant watercolor illustrating a day at the beach. Jones said her inspiration came from the first time she saw the ocean. She tried to capture her own feelings about the beach having no beginning or end and the variety of activities without limits.
"I was 8 when I first saw the ocean and was greeted by an endless stream of shells," she said. "The beach is a place to explore. What I love about this poster is the aerial point of view and what it allows the viewer to see."
Rhea Barklage, office manager for the Neptune Festival, has worked for the event for 10 years and said this design is one of her favorites because of the original perspective.
"I knew when I first saw the 2019 painting that the aerial view would be well-received. It was the first time we had seen this take on a Neptune poster," Barklage said. "That paired with the bright colors really grabbed my attention. The moment I saw the poster, I loved it."
What neighborhood do you live in? Pine Ridge
Hometown: Montclair, Virginia
Children: Two (Peter, 7, Edie, 6)
Pets: Yellow lab (Cubby) and fat tabby cat (Eli)
Education: James Madison University, Class of 2002, BBA marketing, minor art
Community service: I currently do a lot of work for the Pine Ridge Civic League (I run the website, aid in marketing efforts and help with budgeting, brainstorming and organizing events). Also, I have painted live at events where I donate a painting for auction, specifically for Lynnhaven River Now, CHKD's Mermaid Circle and the Virginia Aquarium.
Favorite art style: I love contemporary art but hold a special place in my heart for impressionism, Fauvism and post-impressionism styles.
Favorite medium: Acrylic on canvas
If you could meet one famous artist, who would it be? Henri Matisse — his use of color blows me away. I also love his eye for composition and placement of strokes.
Favorite thing about Neptune Festival? I love the art show! Especially when the weather is gorgeous, there's nothing like grabbing some food from a vendor and seeing all the beautiful work so many artists have collectively made.
Favorite local museum: Chrysler Museum
Favorite local artist: Lisa Ashinoff (also a previous Neptune Festival Poster artist!)
What type of art do you have in your home? Is it comical that the only art I have in my home is my own? I have never bought art, despite my admiration of it; I've always just made what I wanted to.
If a snapshot was taken of you enjoying a perfect day, what would it look like? I'm lucky, I enjoy a perfect day every day. I wake up with my healthy kids and loving husband and am fortunate enough to start most days with some exercise and meditation. I then drop the kids off for camp or school and enjoy a coffee by myself while I read. I get to paint to my heart's content and laugh with friends and enjoy time in the garden. What's better than that?
Favorite movie: "The Goonies" gives me all the nostalgia and adventure I miss from growing up in the '80s.
Pet peeve: When people are routinely late. But another pet peeve of mine is letting anyone get under my skin, so I always bring a sketchbook and watercolors, so I'm never bored. Suddenly "waiting" time is "constructive" time.
Best/worst job: Being an artist working out of my home studio. The best part about it is the worst part about it—everything is up to me!
Something you've done that others might not expect of you: Birthed an 11-pound baby!
What is your personal motto? Bloom where planted.
Favorite local restaurant? Eurasia makes my taste buds dance.
The most memorable words of wisdom you received and from whom: I wish I could think of a moment where a sage who I've admired in my lifetime took me by the shoulders and whispered something profound into my ear, but I can't think of one at present. I've certainly heard a lot of bad advice! I pick up a lot of my best wisdom through watching others. As for good advice, a piece of wisdom I learned from a podcast that has resonated with me is, "The price of your new life is your old life." (I'm not sure if she coined that phrase, but I learned it from Brooke Castillo). Another piece of advice of hers that I love is, "You're only winning or learning, there is no failing."
---
Go to stephiejones.com for more info on the artist and to neptunefestival.com to purchase a poster. Posters will also be available on the Boardwalk at 24th Street during the festival.
---
What: Neptune Festival Boardwalk Weekend
When: Noon-11 p.m. Sept. 27, 10 a.m.-11 p.m. Sept. 28, 10 a.m.-6 p.m. Sept. 29
Where: Virginia Beach Boardwalk, 2nd to 36th streets