Virginian Pilot: After near-death experience, Virginia Beach artist decides to follow her true passion: art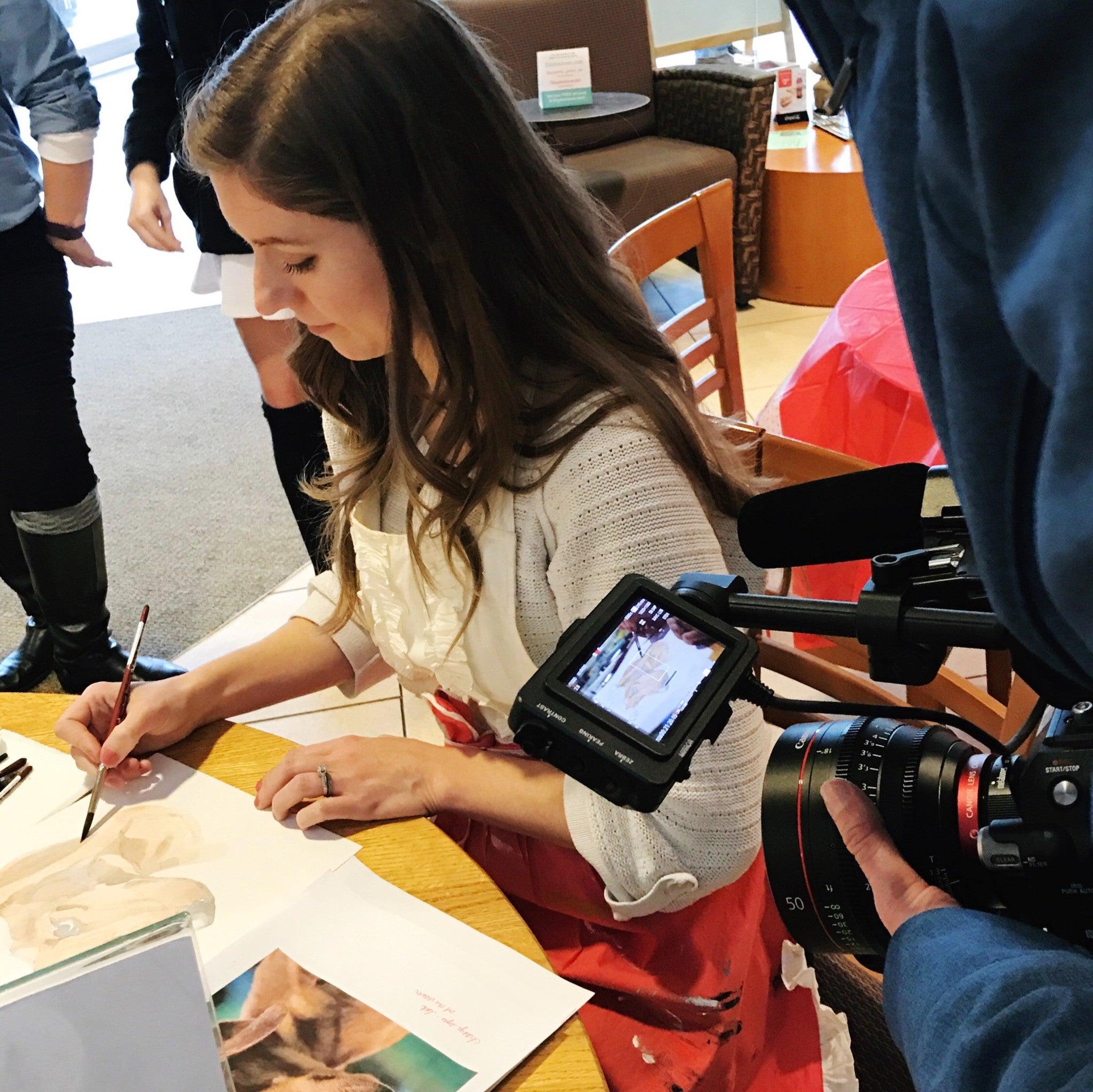 I'm glad to be following my deepest passion these days, to see more about my own story and how I started my fine art business, check out this story in the Virginian-Pilot as a kick off to my February solo show at the Meyera Oberndorf Central Library. I also enjoyed painting live on site this week as part of a feature for VBTV.
The full article can also be read below:
After near-death experience, Virginia Beach artist decides to follow her true passion: art
By Cindy Butler Focke
VIRGINIA BEACH
As people flocked to her website, Stephie Jones thought "I can do this."
The Pine Ridge resident launched Stephie Jones Art last year, and will be the featured artist this month at the Meyera E. Oberndorf Central Library in Virginia Beach.
"I was always drawing and painting from a young age," said Jones, 36, who grew up in Northern Virginia. "I just didn't understand it could be a career."
She majored in marketing and minored in art at James Madison University, where she met her husband, Josh. After graduation she went into commercial real estate, but "it wasn't for me." Eight years ago she started her own graphic design business, Finch Creative.
"I knew it would be lucrative and safe," she said.
But then something happened in 2013. She had an extremely difficult delivery when her daughter was born, and almost died. In a way, her desire to refocus her professional life was also born, she said. No more regrets about not pursuing a career in art.
The new business went into full swing last year when her children Peter, 5, and Edie, 3, reached preschool age. That gave her some time to spend with a paintbrush.
Her inspiration comes from nature, and the world around her, she said. She uses water colors, acrylic, and oil paint.
Every 45 to 60 days, Jones releases a limited, colorful collection of paintings and prints with a common theme. There are four to date, and more on the way.
The first group, "Animals with Floral Crowns," came about one day when she was sketching a deer in watercolors. The "idea just kind of organically flowed," she said. She added one flower after another, and the animal's headpiece of flowers "revealed itself."
The collections - "Cactus Love," and Outer Banks-inspired "Beach Daze" - are bright and eye-catching. "Shine On: Constellations" is the most recent, with an extension titled "Kismet" coming soon. The group will feature zodiac signs, including two together in a Venn diagram style to represent a relationship, such as a marriage.
The home decor company West Elm is reviewing some of her work, with the possibility of a licensing deal. Jones is busy and happy.
Mary Snow called herself "a big fan" of Jones' creations. Three of the artist's watercolor paintings from the Floral Crowns collection - a fox, panda bear and rabbit - hang in Snow's kitchen.
"When you look into the eyes of these animals, they are very kind, but there is a little mischief in them," the Oceanfront resident said.  
Carla Hesseltine met Jones when she created a logo for her business Just Cupcakes. When Hesseltine saw Jones' watercolor painting of a raccoon wearing a floral wreath, she said "that's mine." It brought back memories of her late father, who enjoyed watching the furry creatures run around outside.
Jones hand-delivered the painting to her wrapped in a bow.
"She was genuinely happy for me to have it," Hesseltine said. She praised Jones' talent.
"It's incredible," she said. "So few people get to live out their dream, make it profitable, and wonderful for others."
Save