Virginia Beach Artists, Ocean Lovers Featured in Suffolk Exhibit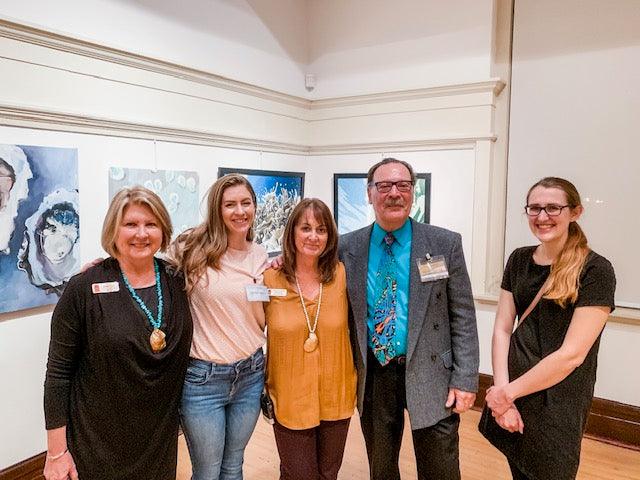 If you missed the opening reception of my show, Coastal Conversation, with fellow beach artist Ed Obermeyer, you can enjoy this recap that ran in the Virginian-Pilot by correspondent Cindy Focke. Enjoy! 
---
 Virginian-Pilot, by correspondent Cindy Focke
Oysters are living among waves through March 30 at the Suffolk Center for Cultural Arts.
The works of Virginia Beach artists Stephie Jones and Ed Obermeyer, both professed ocean lovers, are featured in an exhibit titled "Coastal Conversation."
The center, formerly Suffolk High School which was built in 1922, was restored and re-purposed as the visual performing arts venue for the city.
The recent opening reception was well-attended, said gallery manager Sandy Hart.
Jones' collection of oyster paintings and Obermeyer's oceans "mesh well together," she said.
Each has more than 20 of their works on display.
Jones' realistic paintings of oysters, ranging in size from 30-by-30 inches to 48-by-48-inches, could serve as "focal pieces for your space," she said.
She estimated about 60 percent are "realistic-looking," while others have bright colors woven in and are more interpretive.
Jones, 38, is a mother of two children, ages 5 and 7. She grew up in Northern Virginia and majored in marketing and minored in art at James Madison University.
After a stint in the world of commercial real estate, she opened her own graphic design business.
A near-death experience when her daughter Edie was born in 2013 redirected her passion for art toward a career as an independent artist. She created a group of watercolor paintings titled, "Animals with Floral Crowns." Since then she has produced myriad limited, colorful collections of painting and prints with common themes, including palms, cacti and beach landscapes. Sales bloomed.
About a year ago she began painting oysters. They "really took off," she said.
Possibly because "they really just resonate in this region," she said.
Next year when her youngest is in first grade at Strawbridge Elementary, she looks forward to spending more time in her in-home artist studio in Pine Ridge, she said.
The bright blue and green hues of Obermeyer's ocean artworks splash from the walls. He has collaborated with photographers to use their photos as references for his paintings and in the past two years has actually taken his own. 
That means wearing fins, treading water, and dodging waves at the oceanfront, usually just off First Street.
The 67-year-old Castleton resident taught in Virginia Beach City Public Schools for more than 30 years. He is an avid gardener and surfer and enjoys travelling.
"World travel continues to influence what and how I paint the world around me," he said.
A trip to Australia in 2009 "changed everything," he said. He was intrigued by works of aboriginal artists, and studied the use of patterns and symbolism.
Influences have also included abstract artists and impressionists. About six or seven years ago, he retired from his job as an art educator at Ocean Lakes High School. He grew up in a military family and spent his teen years in Northern Virginia, and earned an undergrad art education degree from Virginia Commonwealth University, plus a master's in interdisciplinary studies in painting and printmaking.
He enjoys showing "people things they don't take the time to look at," he said.
Both artists have busy exhibit schedules throughout the region this year. Visit stephiejones.com and edobermeyer.com for more on the artists.
--Cindy Butler Focke